Greater Harris County
9-1-1 Emergency Network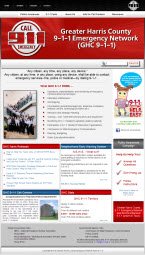 Any citizen, at any time, in any place, using any device, shall be able to contact emergency services--fire, police or medical—by dialing 9-1-1.

Flags Over Texas




Think. Act. Survive.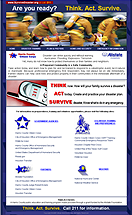 A Prepared Community is a Safe Community.

Legalbitstream.com



www.Legalbitstream.com is Your Source for Free Federal Tax Law Research Comprehensive and timely updated databases

Texas Center
for the Missing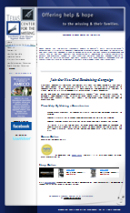 A Missing Children's Organization.
Southeast Texas Search and Rescue Alliance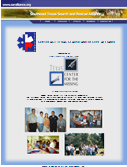 Provides its membership search training; and public safety agencies with awareness, education, and search services.

Good Till the Last Bite!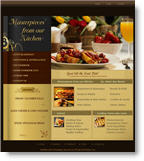 A Collection of Recipes by Elaine Kay Nemer.

Tenerx Corporation



Tenerx Corporation is an engineering consulting
company with an extensive background in the areas of combustion, NOx reduction,
air pollution abatement, and source emission testing.


Houston Masters
Sports Association



A Running Club for Runners
of all Ages and All Levels


The Grassy Creek Ranch



Grass-fed Beef are free range and never confined. No hormones, no growth stimulants and no antibiotics are given in throughout their lifetime.


A web site designed by Virtual ArchiTechs, Inc. will make your business stand out head and shoulders above your competition. We parallel the technology of the site to your business model, industry and specific needs. We learn all about the business you are in -
we take the time to get to know our client and we use our passion, inspiration, knowledge and experiences in the
creation of every site we do.




NewsRouter.com - A Media Alert, Press Release and Special List Notification Service.

NewsRouter.com provides information in real time with an up to date database of major media contacts in your area. Simple to use and secure logon makes NewsRouter.com your best choice for information distribution.

Serious Inquiries

click here

.
The

Houston Regional Amber Alert System

is designed to help find missing children believed to be abducted. The program is a cooperative public service effort between local law enforcement, news media outlets, Amber Plan business partners, and the public.

The plan was developed by the Houston Police Department in cooperation with the Houston Local Emergency Communications Committee, the Harris County Office of Emergency Management, and NewsRadio KTRH-AM 740 (the local primary Emergency Alert System station for the 13-county Houston region).




THE HURRICANE STATUS REPORTING SYSTEM (HSRS)




The Hurricane Status Reporting System (HSRS) is a secure, on-line reporting system that EHCMA member Plant Managers or their Ride-Out Crews can use to quickly report the status of their facilities before, during and after a hurricane. For more info click here.
Marine Surveying Software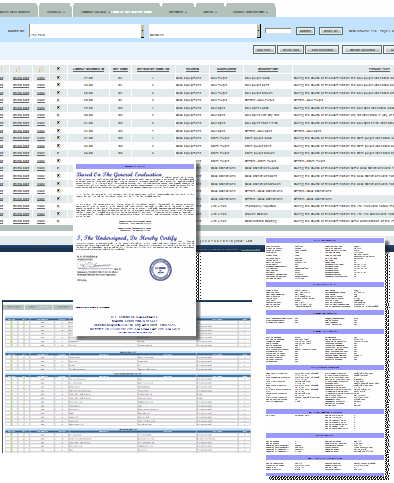 The
Marine Surveying Software
is a internet based program for recording and reporting vessel surveys. The user-friendly program is flexible yet powerful used by Marine Surveyors. Report on all aspects of a vessel including deficiencies. Print reports for your clients immediatly following inspection. For more information call: 281-992-2542 or email:
webmaster@VirtualArchiTechs.com
.
Bill Pattillo



www.BillPattillo.com

After a 43 years of inward contemplative search for spiritual knowledge, the author has journalized his thoughts on universalism with altruism in relation to the universe, the earth, and mankind. These thoughts are presented from the beginning of creation, through the present, to the future of mankind.


WEB SITE CREATION
Harris County Judge
Ed Emmett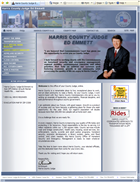 We create your full site from design to implementation and web site hosting.

Freeport LNG



Freeport LNG Development, L.P. owns and operates a liquefied natural gas (LNG) receiving and regasification terminal located on Quintana Island in Texas.

Marine Surveyors
RE Summers



Conducting inspections, surveys or examinations of marine vessels to assess, monitor and report on their condition of the vessel and the equipment installed aboard.

Hurricane Katrina
Harris County/ Houston Relief Effort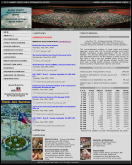 J I C - Joint Information Center - Reliant City
Special Thanks to:



Managed Hosting Backed Up by Fanatical Support


Homeland Security & Emergency Management



Harris County Homeland Security & Office of Emergency Management
Emergency Notices &
Press Room


DATABASE
Houston TranStar



MS Access / SQL Server
Databases are our specialty. Dynamically driven web sites, custom surveys, applications and much more. Virtual ArchiTechs can do the job!


INTEGRATION
Legalbitstream.com



Web Site and Database Integration. Integrate databases or application servers into your website.


Parsons Brinckerhoff



Katy Freeway Public Information Office -
The Katy Freeway extends
40 miles from the Central Business District of Houston west to the Brazos River.

The VAT System - The Volunteer Activity Tracking System.



VATS tracks your organizations volunteer hours, events, opportunities and tasks.
VATS is revolutionizing volunteer management.
Custom Features available upon request.
To request more information click here.

Dell deBerardinis, MA



Speakerdell.com, for motivation and inspiration to change your life. If you are struggling with abuse, relationship problems, depression or personal development challenges, Dell deBerardinis can help.